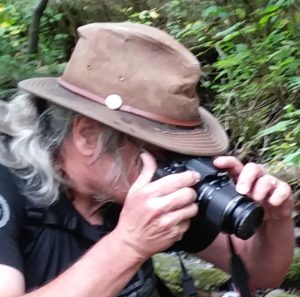 Working through the job of being a delegate from District 63B for the DFL endorsing convention on March 24, 2018 is an on-going project. This is my first time. I was a bit surprised that the majority of the candidates have not contacted me beyond FB campaign pages, that I sought out and liked, or mass emails. I want to find reasons to support one or another of the 5, maybe 6, candidates and discuss the policy details for full legalization of cannabis in Minnesota. My personal poll of the candidates after the recent forum was 100% in favor of legal cannabis. The 30+ year incumbent, Jean Wagenius, was a solid supporter of the bills that created the Minnesota Medical Cannabis Program in 2014. When I met Husniyah Dent Bradley at Nokomis Beach Coffee to talk about her campaign, we talked about a set of issues that I hope will give me enough information to decide how to vote at the convention. The short videos included here detail her perspectives on those issues.
Husniyah was the first candidate to meet and go on the record. I am planning to sit down with Leili Fatehi in the very near future. I encourage all other candidates to contact us as soon as possible. It would be ideal to be able to post an article like this for every willing candidate before the convention. My goal remains to elevate the awareness of easily overlooked races with in depth video coverage of the DFL endorsement for MN House 63B. This is important because the GOP does not seriously compete for this Democratic-heavy district, so in many ways the real election will be held on March 24. Only a small number of Minnesotans will be able to  vote on that day and I am one of them. I take that responsibility to heart. I am an issues delegate in 2018. Full legalization of cannabis, addressing racial disparities, protecting immigrants and welcoming refugees, and investigating the apparent culture of patriarchy and intimidation at the State Legislature and Senate. Those are the main issues as I see it.
In the first clip, Husniyah explains that full legalization of cannabis has been beneficial for the growing number of states were the laws have been changed. She reiterated that the records of those incarcerated or otherwise negatively treated for cannabis-related offenses, be given some form of amnesty or expungement. It is also important that we maintain the experience, skill, and customer networks developed within the illegal industry and bring those people into the legal markets. The history of cannabis prohibition is steeped in racism and biased policing. Mass incarceration and the war on drugs have ravaged communities of color for decades. That is why it is critically important that the legal cannabis sector be set up in such a way as to, at least begin to redress those injustices.
Next, Husniyah discussed her interest in exposing and undoing Restrictive Covenants attached to residential deeds in neighborhoods throughout the district. Dent Bradley brought the covenants into the discussion through her far-reaching response to my query about the state's role in correcting the racial inequities, for which Minnesota routinely scores very poorly. I agree with Husniyah that racial biases, historical and contemporary, impact every other issue. Its more a perspective, a lens, than a single issue. I was not aware that race-based restrictive covenants remain in force in 2018, let alone in district 63B. I thought that the Federal laws passed in the 1960s and '70s had negated them. I was wrong.

Dent Bradley highlighted health disparities as another example of how racial bias impacts every issue. Citing incidents and investigation into longer wait times and shorter examination times for people of color, Husniyah described a system in need of reform and repair. Her support for a single-payer healthcare system for Minnesota was made clear at the Candidate's Forum. By using a racial equity model in the design of the single-payer system, the inequities of the current health insurance system might be ablated.

The recent attempt to ban refugees from St. Cloud stands in direct contrast to the stated goal of Minneapolis to become a sanctuary city and shelter immigrants from ICE and deportation. The situation is dire, and local immigrant rights groups have been demanding more from the Minneapolis City Council. The Council seems open to the idea of a Municipal ID card. The issue will likely be part of the race for Governor, especially if St. Cloud city council member Jeff Johnson is the Republican nominee, after he authored the failed ban. It is clear that sheriff and police departments across the state are actively cooperating with ICE and targeting people for deportation. It is also clear that a wide range of responses to such collaboration exist throughout Minnesota. I see no value to treating residents of my neighborhood, city, state, nation or world badly and with disrespect. No good can come of it. Minimally, it creates distrust of the police and government agencies in the disadvantaged and marginalized communities that can least accommodate it. Husniyah spoke to these issues and promised that she would support making Minnesota a sanctuary state.

On the questions of the culture at the Capitol and passing an Equal Rights Amendment at the State and National levels, Husniyah expanded the discussion to include all civil rights. In the final video clip, she explains her approach.

---